#1 Full Stack Web Developer Course in Nashik​
12 Months Certification Course with 100% Placement Assistance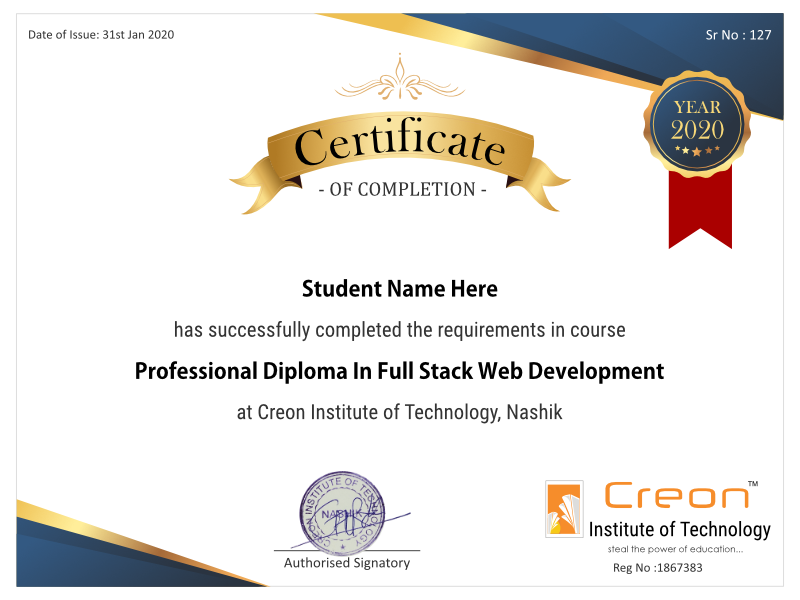 What is Full Stack Web Development?
Full Stack Web Development is a comprehensive approach to web development that covers both front-end and back-end development. It involves working with different programming languages, frameworks, architectures, and databases. Front-end development involves working with HTML, CSS, and JavaScript to create the structure and design of a website. Back-end development involves working with server-side technologies such as PHP and MySQL to create the functionality of a website. By mastering both front-end and back-end development, developers can create and manage complex web applications.
At Creon Institute, we provide training in the latest technologies and best practices with Best Full Stack Web developer Course in nashik city. So you can become a skilled and knowledgeable Full Stack Web Developer to become a job ready professinal.
Batch
3 Days a week | Offline/Online
Frequently Asked Questions
This course was very interesting and practical. I recommend this to those who are looking for career in IT Industry. Thanks Creon Institute Nashik.
Best Full Stack Web Developer Course in nashik to join. The method of Teaching & Practical Assignments are really awesome. Thanks Creon Institute for best Education.